---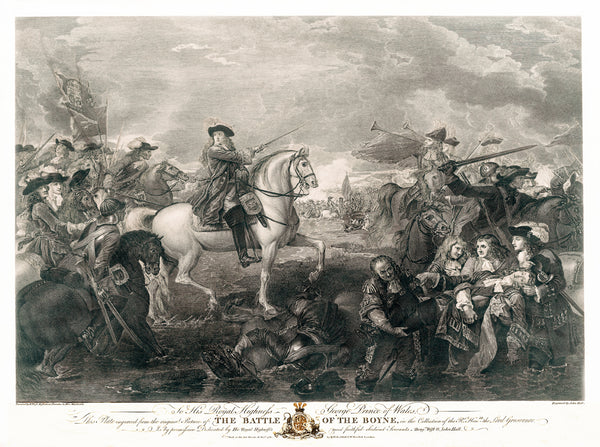 ARTIST Benjamin West
ENGRAVER John Hall
ORIGINAL DATE 18 October 1781
PUBLISHERS   Benjamin West, John Hall and William Woolett
NEW LIMITED EDITION PRINT of  the original line engraving
MEDIUM Museum quality print on Copperhouse paper
SUBJECT This is a fine print of the original line engraving effected by John Hall  and dedicated in 1781 to George Prince of Wales then soon to become Regent to his father the mad war loving George III who beat the republicans at Vinegar Hill and Wateroo but lost the Americas and prohibited the abolition of slavery (a lovely man). The engraving was effected from the original painting made by Benjamin West in the collection of the Grosvenors. Shown is William of Orange on the battlefield !
CONDITION new and excellent
DIMENSIONS  39.1 x 29.1 cm (15.39 x 11.45 ins)
POSTAGEworldwide post and pakaging is included in the price
N.B. A rare original 18thC. line engraving measuring 432 x 597 mm  is currently available – details and  price on request.