---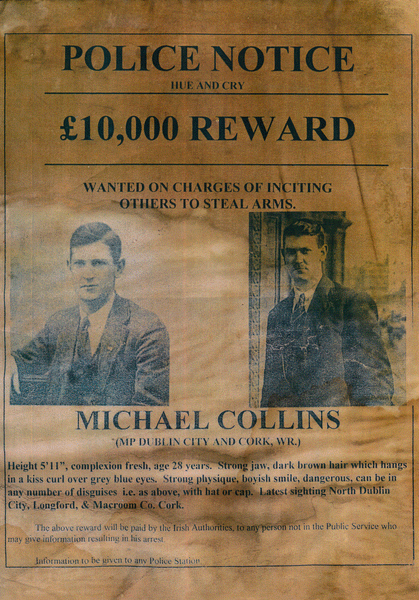 Dimensions unmatted: 11.4 inches x 15.4 inches
Dimensions of media: 11.75 inches x 16.5 inches
Media: Museum Quality Archival paper
Background:
During the Irish War of Independence  Michael Collins had many persona.
To the occupying British he was " Chief of IRA , organiser of all ambushes and murders".
To the natives he was Chief of IRA, Terrorist of terrorists, Minister for Finance, head of Intelligence, Commander of the Army.
Collins was not one for photographs!
The first photo of him to appear in the British authorities Irish Police gazette is likely to have been in the December 1919 issue along with some other "likely lads".
This is not that document which bore the British coat of arms. 
It was a practice of British Intelligence to produce and  circulate among themselves and police stations  posters and photographs. One such is that of Dan Breen and this one of Michael Collins appears to be in the same format.  
It was acquired by `Sonna Arts for a hefty sum at a public but thankfully not too well advertised auction in Dublin. The auctioneer informed that it was part of a collection of IRA memorabilia which had ben collected over years but most of which was lost in a fire in Dublin.
I had the pleasure of having it sighted by the late and lamented former Minister for Foreign Affairs shortly before his demise. Peter Barry had collected Michael Collins memorabilia all his life much of which I understand has been generously donated to the Irish State.
The image has been a little cleaned up and is subject of copyright.
The price includes postage of the item
The Item is also available in a matted format and with matting and framed. Prices on request