---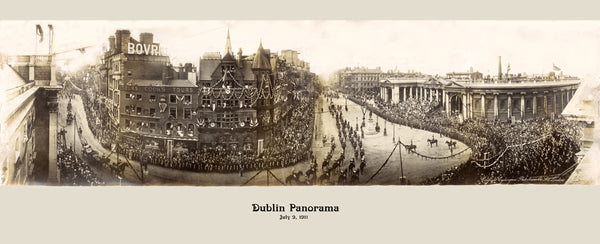 Photographer Unknown 
New Print of unique panorama of the city from Grafton Street to Westmoreland Street
Process Unknown Panoramic Process – no trace could be found of Cyclorama 
Medium Special print on quality media
Subject This is a fine print of the unique  panoramic photograph produced buy Cyclorama on the occasion of the visit of George V and wife to Dublin in July 1911
Condition New and Excellent
Dimensions  48.3 x 19.64 cm
Postage and packaging included in price
Special Large Edition is available  36 inches by 10 inches approx 165 euro. Contact us directly  to order same.
CONTEXT
9thJuly 1911 The personification of Empire and his wife arrive in Dublin and are "gracious enough" to accept the enthusiastic reception by their "subjects" and go to the races.
9thJuly 1911 James Connolly records:
What is monarchy? From whence does it derive its sanction? What has been its gift to humanity? Monarchy is a survival of the tyranny imposed by the hand of greed and treachery upon the human race in the darkest and most ignorant days of our history. It derives its only sanction from the sword of the marauder, and the helplessness of the producer, and its gifts to humanity are unknown, save as they can be measured in the pernicious examples of triumphant and shameless iniquities.
That royal family has opposed every forward move, fought every reform, persecuted every patriot, and intrigued against every good cause. Slandering every friend of the people, it has befriended every oppressor. Eulogised today by misguided clerics, it has been notorious in history for the revolting nature of its crimes. Murder, treachery, adultery, incest, theft, perjury – every crime known to man has been committed by some one or other of the race of monarchs from whom King George is proud to trace his descent.
2ndAugust 1914  This personification of selfishness, in charge of an empire built on slavery and theft "advises" his foreign secretary "You must find a reason for war Grey." Lovely stuff.
Easter 1916 James Connolly and friends show their words arent  cheap.
1917 The Queen – "a lovely woman" – could her cousins in mortal danger in Russia stay with her – afraid not !
 Its said those she visited hid their jewellery – and as for the family's Russian jewellery – bought in cheap – especially the jewels that the bolshevik bullets bounced off.
1921 Amidst the ruins of the city independence is achieved.
 No more "royals" set foot in the Republic for 100 years